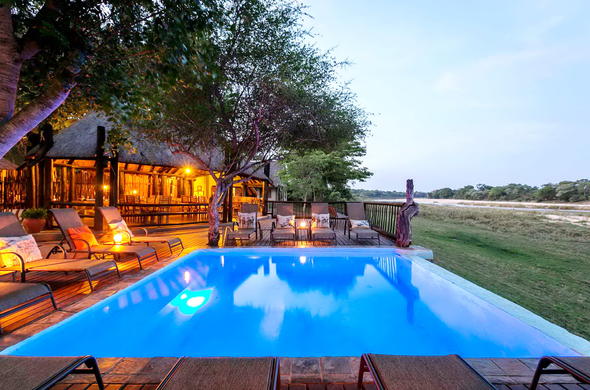 The Sabi Sands Private Game Reserve is the South African wildlife hub in which Umkumbe Safari Lodge finds itself situated. In the presence of the Big Five and countless other animal species, you will receive an authentic African experience.
Lodging: A combined total of 10 rustic chalets and suites with en-suite bathrooms
Location: On the banks of the Sand River in the Sabi Sands Private Game Reserve, South Africa
Activities: Game drives, bush walks, traditional boma dining experience
Umkumbe Safari Lodge is managed and run by the owner, ensuring a personal South African safari lodge experience. Emphasis is placed on enjoying Africa in its purest form, without the ever-present interruption of technology and urban luxuries.
Spend your days at Umkumbe Safari Lodge viewing the exhaustive list of wildlife species present in the bush as you participate in game drives and bush walks alongside your qualified ranger. Listen as your guide explains the various fauna and flora of the area as well as how they contribute to this unique ecosystem.
Although the Big Five are the animals that every safari-goer looks forward to seeing, there are many other interesting creatures to be seen, including blue wildebeest, kudus, caracals, aardvark, serval, waterbuck and many more.
Appreciate your remote location as you stare up into a night sky decorated with dazzling lights while being serenaded by a choir of animal noises and comforted by a campfire during a boma experience.