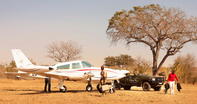 Sabi Sands Game Reserve is located along the western edge of the Kruger National Park. The reserve is immense and covers 65 000 hectares / 153 000 acres of land.
Sabi Sands and Kruger Park share an unfenced border of 50km (31.25 miles) which allows for the free movement of game between the two areas. Sabi Sands Game Reserve is a sum of smaller parts with various freehold landowners.
There are a number of ways to access particular lodges within the reserve by road and air. In addition to the options below, private road transfers, charter hops and individual charter flights can be arranged to suit guest itineraries.
Getting to Sabi Sands by Air
Enjoy easy access by air to the most luxurious game lodges and the most dramatic game viewing in Africa when you fly into the Sabi Sands Game Reserve, where all lodges are serviced by an airstrip.
One of the most convenient ways getting to Sabi Sands Game Reserve is via a scheduled flight. There are regular flights from Johannesburg and Cape Town to the Kruger Mpumalanga International Airport near Nelspruit and the Skukuza Airport inside the Kruger National Park. From the airport, a local road transfer is arranged. The road transfer to your safari lodge in the Sabi Sand Game Reserve turns into a mini-game drive, as you are sure to spot a variety of wildlife along the way.
Our consultants are experts in the area and know which flight and road transfers to arrange for you in order not to miss your first game drive on arrival day. We want to maximise your time on safari and minimise your time travelling.
Sabi Sands Entrance Gates

The Sabi Sands Private Game Reserve has three entrance gates and each one serves different safari lodges. Please make sure you access the correct gate when travelling. When booking with Siyabona Africa we will ensure to provide you will the necessary information on how to get there and what entrance gate to use.
Shaw's Gate: open from 05H00 to 22H00
Newington Gate: open from 05H00 to 22H00
Gowrie Gate: open from 05H00 to 22H00
Getting to Sabi Sands by Road
There are three entry gates into the Sabi Sand Reserve - Shaws Gate, Newington Gate and Gowrie Gate. Gowrie is located in the north of the reserve and both Shaws and Newington are situated in the south-west sector. Gates open at 05h00 / 06h00 am and close at 22h00 / 23h00 pm (subject to change).
~ Shaws Gate
is a 6-hour drive from Johannesburg
~ Newington Gate
is a 5.5-hour drive from Johannesburg
~ Gowrie Gate
is a 7-hour drive from Johannesburg
~ Entrance fee
is payable (cash) for each car and occupant
Driving in Sabi Sands Game Reserve
Travel directly to your destination and do not deviate from the route
Remain in your vehicle at all times
Remain at a respectable distance from wild animals
Remember that all wild animals are dangerous
Do not exceed the speed limit of 40 km / hour
Please do not feed any animals in the Sabi Sand Reserve
Retain your entrance receipt and have it stamped at your destination