How to get to Sabi Sands. Location and Access to Sabi Sands Game Reserve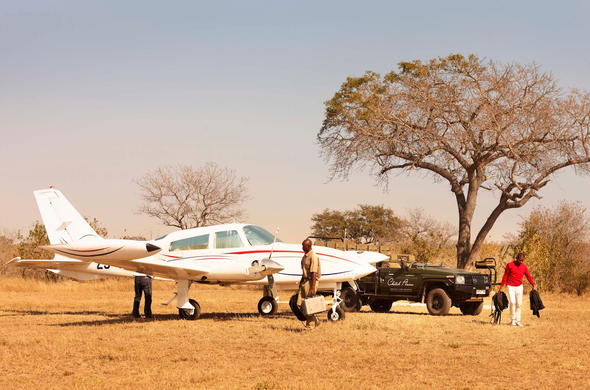 Sabi Sands Game Reserve is located along the western edge of the Kruger National Park. The reserve is immense and covers 65 000 hectares / 153 000 acres of land.
Sabi Sands and Kruger Park share an unfenced border of 50km (31.25 miles) which allows for the free movement of game between the two areas.
Access
Sabi Sands Game Reserve is a sum of smaller parts with various freehold landowners. There are a number of ways to access particular lodges within the reserve by road and air. In addition to the options below, private road transfers, charter hops and individual charter flights can be arranged to suit guest itineraries.
By Air
Airlink and SA Express:
Airlink operates a daily scheduled flight service from O.R. Tambo International Airport (ORTIA) in Johannesburg directly into the MalaMala Airfield (AAM). Lion Sands Private Game Reserve, Nottens Bush Camp, and Kirkman's Kamp have access to the airfield to collect or drop off their guests. Both Airlink and SA Express operate scheduled flights from Johannesburg and Cape Town to Kruger Mpumalanga International Airport (KMIA) in Nelspruit. Co-ordinating transfers by road and air can be arranged from KMIA to Sabi Sands (about 30 minutes by air and around 2-3 hours by road depending on the lodge).
Federal Air:
Federal Air is a charter shuttle service which operates out of O.R. Tambo International Airport (ORTIA) in Johannesburg or Kruger Mpumalanga International Airport (KMIA) in Nelspruit into the majority of Sabi Sands Reserve Lodges.
By Road:
There are three entry gates into the Sabi Sand Reserve - Shaws Gate, Newington Gate and Gowrie Gate. Gowrie is located in the north of the reserve and both Shaws and Newington are situated in the south-west sector. Gates open at 05h00 / 06h00 am and close at 22h00 / 23h00 pm (subject to change).
Shaws Gate and Newington Gate are a 5.5 hour drive from Johannesburg
Gowrie Gate is a 7 hour drive from Johannesburg
An entrance fee is payable (cash only) for each car and occupant
Driving rules within Sabi Sands Game Reserve
Travel directly to your destination and do not deviate from the route
Do not leave the roads
Do not leave your vehicle, remain in your vehicle at all times
Remain at a respectable distance from wild animals
Remember that all wild animals are dangerous
Do not exceed the speed limit of 40 km / hour
Do not feed the animals in the Sabi Sand Reserve
Retain your entrance receipt and have it stamped at your destination
Do not litter in the reserve
This region is also in the process of being extended within the Peace Park concept which is expected to integrate and amalgamate with protected wildlife areas in Mozambique, and eventually Zimbabwe.
There are two rivers that supply Sabi Sands with water. The Sand River flows through the reserve for 50km (31 miles) from north-west to south-east, whilst the Sabie River flows on the southern boundary. These are life-giving resources that ensure the area enjoys one of the highest and most bio-diverse wildlife populations in Africa.
Nowhere in South Africa will one find a wildlife experience quite like that of Sabi Sands Game Reserve. Over two hundred different species live in abundance. There is good quality viewing of Leopard (the most elusive of predators), and other members of the Big Five namely Elephant, Lion, Rhino and Buffalo.
Guests also enjoy sightings of Cheetah, Giraffe, Zebra, many varieties of antelope and other species. The prolific birdlife and rare finds will challenge even the most experienced ornithologist. Such is the environment that the wildlife, apart from the migratory birds, remain in their territories all year round.