Luxury Family Safari Fun for Kids and Relaxation for Mum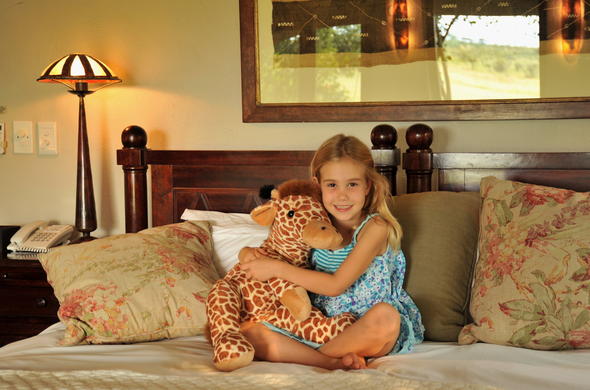 Enjoy a luxury family safari where everyone is catered for in style. Mum gets some precious 'me' time and the kids enjoy their own magical bush adventure. The Sabi Sand and Mala Mala Game Reserves offer a private wilderness at the edge of the legendary Kruger National Park.
There are no fences between these renowned private game reserves and the Kruger Park. Big Five game are free to roam at will in this region. A safari in a private reserve affords a range of exciting activities such as night drives, which are not permitted in national parks. Game drives can also deviate onto off-road routes to go in search of amazing game sightings.Here is a selection of superb lodges which provide the perfect environment for a luxury family safari. At these lodges, children are cared for and shown the wonders of the bush in an exciting way. They become junior rangers and learn about the environment through a variety of experiences which will create great memories. Parents can relax and make the most of the excellent facilities - but Mum in particular, can have a good rest and recharge her batteries.
Londolozi, Sabi Sand Game Reserve, Greater Kruger National Park
Kids Club
The Cubs Programme offers children fun ways to learn about themselves, people and different cultures. It's a holistic experience filled with interesting activities and learning about bush skills. The Den is a safe and delightful play area for children - a tactile place where kids can get to grips with crafty things, drive a 'Land Rover' and investigate the fish ponds.Excursions and activities are led by a Bush expert and Cub coach. Activities include bug catching, readings spoor, bead making, drumming and gumboot dancing, baking, fishing, candle making and much more - whew!
Varty Camp
and
Founders Camp
are really great for families and accept children between the ages of 4 and 16 years. Children of 6 years and over can go on game drives.
Mums Escape
Each suite at Londolozi has an inviting range of essential oil body essences for the ultimate bubble bath or invigorating outdoor shower - bliss! Londolozi Life is the centre dedicated to health and well being at Londolozi. It's a place of healing and philosophy with exceptional facilities to ensure every Mum leaves feeling like a goddess.Yoga lovers can enjoy sessions on mobile yoga decks or in private. Beginners and intermediate enthusiasts practice Lyengar, Ashtanga, Jivamukti and Tripsichore postures. Stressed Mums in need of some pampering can have a massage at the centre, in-suite or on the suite deck. Therapies offered include Swedish massage, Aromatherapy and Reiki.
Mala Mala Game Reserve, Greater Kruger National Park
Kids Club
At Mala Mala children will certainly be entertained but the emphasis is always on the bush and the wildlife. Kids will be fascinated with everything that goes on and be involved in a way which is tailored to their individual needs. Each junior ranger is given a backpack to get into the swing of things. Types of activities led by experienced rangers include bush walks, animal tracking, preparing a bush breakfast, learning bush skills, and enjoying games, film sessions and more.
Mala Mala Main Camp
is the place to be for families - children of all ages are welcome. Children under 4 years are not permitted in the boma (outdoor enclosure) for dinner or on game drives unless a private vehicle has been reserved.
Mums Escape
While the kids enjoy exciting bush activities, Mum can take some time out to rest and relax by the infinity pool or whip out a good book for a luxurious read in high comfort. Mala Mala offers and in-suite massage therapy service - so she can retreat in peace. At Main Camp each suite is fitted with a His and Hers bathroom, so Mum can have lengthy soaks and aromatic showers to her heart's content, in between safari activities and sessions in the fitness centre, which has a steam room.
Sabi Sabi Game Reserve, Sabi Sand Game Reserve, Greater Kruger National Park
Kids Club
There is a fully equipped children's centre at
Sabi Sabi Bush Lodge
which caters for children in 2 different age groups, from 4 to 8 years and from 9 to 12 years. The centre is professionally managed and provides interesting age-appropriate bushveld activities, as well as 'edutainment' in a fun and safe environment. Adventures in nature take place in the morning followed by hobbies and crafts before lunch. In the afternoon the kids enjoy a range of favourite and also completely new games (indoors and outdoors).Sabi Sabi Bush Lodge is perfect for a family safari. Children of all ages are welcome. Children under the age of 6 years cannot go on game drives (unless a private safari is booked). For the evening meal, children aged 5 years and younger are served an early dinner in the safari lounge and not in the boma (outdoor enclosure).
Mums Escape
With the kids fully engaged in their own great bushveld adventure, Mum can have an exploration of her own - the spa! Amani Spa at Bush Lodge is an indulgent retreat offering holistic treatments and therapies designed to relax, harmonise and rejuvenate.All body, skin and beauty treatments are put together to suit individual needs. A signature treatment is a massage using the restorative qualities of crystals and warm, soothing oils. A lovely Bush Baby Menu is offered for kids between the ages of 2 and 12 years so they can join Mum for some quality time.
Family Safari Packages in Sabi Sand
See these
Family Safari Packages
for excellent family-friendly holiday options.