Intimate Encounters | Premier Honeymoon Safari
With the Intimate Encounters Safari Package in the Sabi Sands Game Reserve, you will make the first holiday you spend together to celebrate your marriage, truly unforgettable in every way.
Overview
A three night four day stay at this wonderful safari destination makes for a perfect honeymoon retreat. This exclusive destination is offered on the 4 Day Intimate Encounters Package in the Greater Kruger National Park.
Highlights
Unrivalled personal service and privacy
Only 4 suites, each with a plunge pool
Serene interiors and natural finishes
Wonderful riverside and waterhole views
The best of Big Five viewing including Leopard sightings
The Intimate Encounters Safari Experience
Start your new life together in the sublime getaway that is the Sabi Sands Game Reserve. With every luxury at hand and an enviable position overlooking the confluence of the Sabi and Mabrak rivers, you will have an unforgettable honeymoon experience.
The exclusive an serene setting of your lodgings hosts just eight guests at a time. Constructed for maximum privacy, the suites each feature floor to ceiling glass windows and a sparkling plunge pool. All natural finishes throughout mean that the lodge is completely at peace with the bush that surrounds it. Multi-levelled viewing areas create intimate corners for a quiet moment of inner reflection.
The 3 Day Intimate Encounters Package offers a premier game viewing experience in the magnificent Sabi Sand Game Reserve. Your ranger and tracker team provide a personalised and exciting adventure that takes in the best of the Kruger National Park. Off-road game drives go in search of the Big Five in an area that is famed for its awesome wildlife sightings. Vehicles at sightings are strictly limited, so you have a ringside seat at all times.
Day 1: Johannesburg to Sabi Sands Game Reserve
View Lodge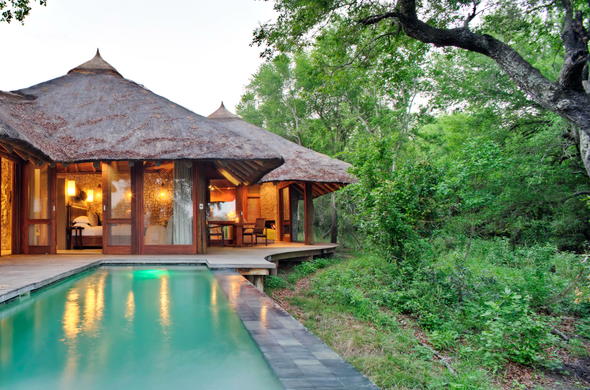 You depart Johannesburg on a commercial flight to Kruger Mpumalanga airport from where you will be transferred by road to your accommodation in the Sabi Sand Game Reserve. On arrival, you will be met by your ranger and introduced to the area. Your ultimate honeymoon escape unfolds over three nights and four days. Once you've settled in, take a refreshing dip in your private pool or start your safari with an exhilarating outdoor shower. Explore the lodge and discover its innovative design which affords spectacular views from different angles. Your beautiful suite has a welcoming fireplace - just the place for sundowners in front of a crackling fire. Game viewing activity: Afternoon game drive.
Day 2 & 3: Safari Lodge in Sabi Sands
View Lodge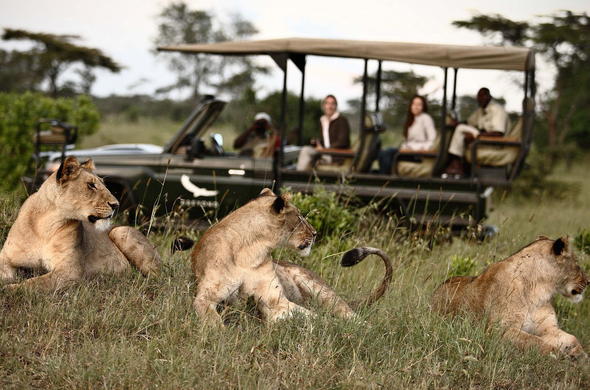 The day is yours to plan as you please. In between activities you can enjoy fabulous gourmet meals, teas and drinks at the elevated dining and sitting areas, which boast dramatic views over the Sand and Mabrak Rivers. Dinners are savoured around a blazing camp fire, under starry African skies in the open-air boma.
Game activities revolve around dawn and dusk game drives and guided walks with your game ranger. Both drives stop for refreshments at scenic spots. The evening game drive is both exciting and intimate. You can toast to your future whilst sipping cocktails together in the bush, before the drive goes on in search of nocturnal game with the aid of a spot light. Game viewing activity: Morning and Afternoon game drives. Optional bush walk.
Day 4: Sabi Sands to Johannesburg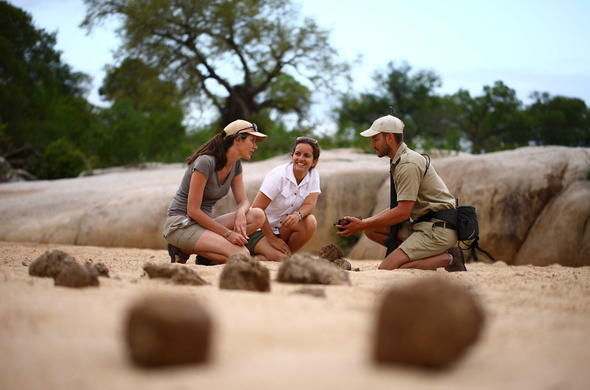 This is the last day of your luxury South African Safari in Sabi Sand Game Reserve. After a morning activity and breakfast it is time to leave this exclusive private breakaway for honeymooners. You will be transferred from the Sabi Sands to Kruger Mpumalanga Airport for your return flight back to Johannesburg. Game viewing activity: Morning game drive.
Rates & Prices
As per detailed itinerary outlined above ; travelling time 2-3 hours
Included
Round trip commercial flights between Johannesburg O.R. Tambo Airport and Kruger Mpumalanga Airport with road transfer from Kruger Mpumalanga Airport to the Sabi Sands
Three nights accommodation
Morning and afternoon/evening game drives
Optional morning bush walk
All meals included as per itinerary
Local beverages
Laundry Service
Not Included