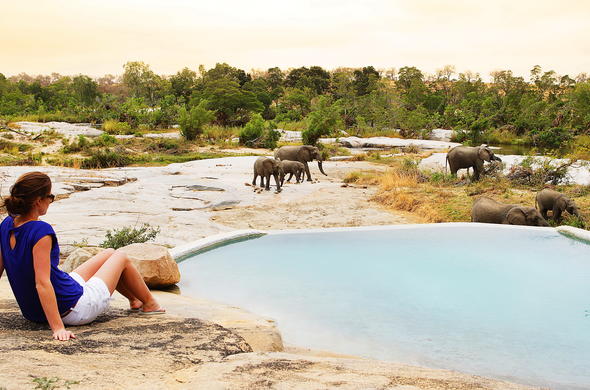 The words 'Londolozi' and 'leopards' are often said in the same breath, as there is a high expectation that when you visit Londolozi luxury safari accommodation you will see leopards.
A World Famous Region
Over the past three decades, a special relationship has developed between wild leopards and the rangers and trackers of Londolozi in the Sabi Sand Game Reserve. Documentaries, films and books celebrating this relationship have made Londolozi world famous.For over eighty years, the Varty family has been associated with Londolozi, even if family members were not always personally running it. But now the family is back, welcoming visitors through the front door. Dave Varty says, 'Guests get a much better experience if the owners are at the front door.'
Camps with Individual Personality
This philosophy transfers to the whole guest experience at all of the five Londolozi safari camps:
Londolozi Tree Camp, featuring lanterns, leadwoods and fine linens.
Londolozi Pioneer Camp, hidden deep in a 500-year-old riverine ebony forest.
Londolozi Varty Camp, a return to the original family bushveld experience.
Londolozi Private Granite Suites, a private river affair pinned to granite bedrock over the Sand River.
Londolozi Founders Camp, situated along the banks of the Sand River.
The Essence of Safari
Each one of the Londolozi luxury safari accommodations have its own personality, like each member of the Varty family, but one common goal is the intention to redefine the essence of safari; to find the right balance between simplicity, elegance, style and service, without compromising the core reason the Vartys and their guests are there - to celebrate African wildlife.
But even deeper than that, the Vartys see their role as guardians of the future for the wild animals and local communities.