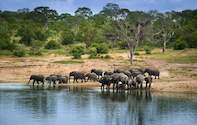 Chitwa Chitwa is set within the exclusive 63,000 hectare Sabi Sand Private Game Reserve, which forms part of the greater Kruger National Park in South Africa's Lowveld region.
Chitwa Chitwa is situated on the banks of the largest water source within the 63,000 hectare Sabi Sand Private Game Reserve, an area which forms part of the Great Limpopo Transfrontier Park – an eco-tourism destination that's geared towards sustainable economic development of local communities and biodiversity conservation.
Due to these efforts, wildlife has thrived in the area, resulting in abundant populations of over 45 fish species, 30 amphibian species, 110 reptile species, 500 bird species and 145 mammal species, including Africa's famous Big Five.
Chitwa Chitwa is accessible by air directly from Oliver Tambo International Airport in Johannesburg (1hour, 30 minutes). Direct connecting flights are also available from Kruger Mpumalanga International Airport (35 minutes) and there are daily direct flights from Johannesburg, Durban and Cape Town to Nelspruit Kruger.
A 20-minute air-side transfer connects you onward to the Arathusa Airstrip where a short open vehicle transfer will take you Chitwa Chitwa's doorstep. There's also the option of a 5-hour road transfer from Johannesburg to Chitwa Chitwa.