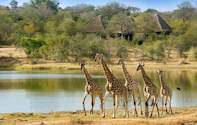 A stay at Chitwa Chitwa offers incredible Sabi Sands safari experiences, including scenic game drives, guided photographic safaris and the opportunity to take in exceptional art.
Close Encounters of the Wild Kind
Journey into the African wilderness, within an exclusive reserve that has pioneered sustainable wildlife tourism in southern Africa. Lauded for its excellent game viewing, this landscape offers abundant opportunities for Big Five encounters due to the wildlife being accustomed to safari vehicles. Delve into the crisp morning air and under moonlit skies for a chance to glimpse the giraffe, buffalo, elephant, rhino, leopard and lion with expert guides and trackers in tow.
Art of the Getaway
A stay at Chitwa Chitwa will reveal a luxury oasis that also houses beautiful original contemporary art pieces curated by owner Maria Brink. Maria's lifelong career in international fashion, luxury jewellery and art has afforded her a discerning eye for aesthetics, as can be seen in her choice of bold art pieces and sculptures. Chitwa's art harnesses the powers of masculinity and femininity while combining European flair with traditional African elegance.

Capture The Magic
Chitwa Chitwa's famous photographic safari will give you the opportunity to capture once-in-a-lifetime images. Guides will be on hand to ensure close proximity to wildlife and optimum opportunities to capture that perfect moment, whether with your camera or one of the top-of-the-range ones available for hire.