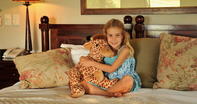 Children on safari in Kruger? Absolutely. Enjoy a luxury Kruger family safari in Sabi Sand Game Reserve where everyone is catered for. With experienced childminders on site, children-friendly activities, facilities and meals, you will soon realise that the Kruger is one of the most accessible places to enjoy a fully-fledged African family safari.

The Kruger Park might be in the heart of the bush but it really is a wilderness wonderland for kids. Sure, there are plenty lodges that don't allow children, but we have a carefully curated selection of children friendly accommodation options just waiting to welcome your entire crew with open arms.
With a plethora of interesting animals, all that space to tire out those little legs, well-organised Junior Ranger programs and "cub clubs' on the go, you will wish you had booked your family safari to Kruger even sooner.
Take a look at these top-notch Kruger family safari lodges in Sabi Sand Game Reserve that offer everything your family might need on your safari experience, with specialised activities to keep your children entertained throughout your stay.

The relaxed pace of these children-friendly safari lodges in Sabi Sand Game Reserve means you can be as active (or not!) as you like.
The Londolozi Cubs programme offers up some entertaining kiddies activities with a learning element. Not only will your little ones understand the importance of preserving our natural environment, but they will also have a hands-on experience in discovering how diverse Africa is not only within the animal kingdom but its people too.
The guides at Londolozi Varty Camp and Londolozi Founders Camp are happy to spend some quality time with your little ones who are interested in learning about how cool it is to be a real ranger.
For some kiddie downtime, the Cubs Den is an immersive area equipped with fish ponds to splash around in, "real" Land Rovers to play in, camp-out tents and a vegetable garden.

Sabi Sabi Bush Lodge is a beautiful location for a family safari in Kruger. Great for both parents and kids, this is one of those places where you will forge many happy memories that will last long after you have left. For the kids, the Elefun centre at Sabi Sabi Bush Lodge provides an interactive and educational experience while on safari.
It boasts two comprehensives programmes, the junior tracker program for children ages 4-8 and the junior ranger program which caters for children aged 9-12. They can learn how to read maps of the region, head out on bush walks to identify small insects, reptiles and plants.
They can also take part in creative arts and crafts sessions with bush talks and stories in the morning and afternoon. This is also the perfect time for parents to sneak in some relaxation.

There's something to keep all ages occupied at Ulusaba. They call it a 'Cub's Club', whereby little guests between 0-11 can join.
It entails an array of age-appropriate activities such as safari MasterChef cooking lessons, guided walks with the Rangers, rock painting, colourful sand art and there are also plenty of board games on the go too.
The best thing about Ulusaba Rock Lodge is that kids over 6 years are allowed to join their parent on the 4x4 game drives within the private Sabi Sand Reserve.
Moms and dads can also make use of the babysitting services that are available if they might like to nip off to enjoy a private dinner together.
Family Safari Packages in Sabi Sand
See these
Family Safari Packages
for excellent family-friendly safari holiday options.