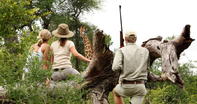 Our Premier Private and Exclusive Safari Packages in Sabi Sands Private Game Reserve provide African travellers with unique and personal safari experiences.
Going on safari to Africa is high on the priority list of most people and for those wanting an up-market yet secluded experience there is no better way than with our customizable safari packages where you are ensured of undivided attention - with the possibility of exclusive use of the lodge.

This
Opulent Safari Retreat
safari package symbolises a new age in luxury travel to Africa. In fact, so exclusive is it, there is nothing quite like it anywhere else on the continent. Only for the select few, the lodge on this package is about light, texture and space to provide a personal experience like no other.

Discover the best of Africa's most exclusive unspoiled environments on a luxury
Kruger Safari and Beach Holiday
. Go on off-road game drives to witness the great African wild in the Sabi Sand Game Reserve. Explore the pristine and wild coastlines that boast amazing white sands and sparkling turquoise waters all year round of the Bazaruto Archipelago.

This
Premier Sabi Sand Safari
safari package allows you to book exclusive use of the lodge to ensure an African safari experience of absolute privacy. A seamless integration with nature, where the barrier between inside and out is blurred, and secluded from others is what this safari package is all about.

Be part of possibly the most exclusive luxury safari experience in Africa on this
Safari Decadence package
where you can sleep out under the wide sky with only the sounds of the wilderness and your own thoughts to keep you company. The seclusion of this private tree house getaway is unforgettable.

This is truly 'Old Meets New' as the pioneering days of the African wilderness meet the luxurious exclusivity and intimacy of a small and private lodge in Sabi Sands Private Game Reserve to offer an
exclusive safari package
. So exclusive, that it is possible to reserve the whole lodge intended for sole use.

A supreme South African safari experience is what can be expected on this exclusive African wildlife safari where the hospitality and service match the incredible wildlife. This
Kruger safari and Spa package
is set high apart from other options and offers far more than the Big Five, it is truly unparalleled.