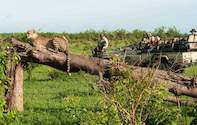 Bird watching and Big 5 guided game drives are top activities at Inyati Game Lodge which is perfectly situated along the Sand River in the Sabi Sand Game Reserve.
Look Out for Leopards
The Sabi Sand is well-stocked with a bounty of animals, including all the iconic members of the Big 5. It is most well known for its leopards which you'll likely see during early morning and late afternoon guided drives at Inyati. If you would like to embark on your own private game drives with exclusive-use of a ranger and a 4x4 safari vehicle, this can be arranged at your request.
Step Out into the Sabi Sands
For a safari experience of a different kind, why not head out on a late morning bush walk with one of Inyati's armed trackers? You'll be sure to encounter plenty of general game species such as giraffe, zebra, warthog, kudu and impala seeking out a refreshing drink along the Sand River. We can't list all the creatures, but this is your chance to really get up-close and personal with the South African bush.
Fishing and Photography
Inyati offers fishing equipment for those looking to cast a line into the Sand River in between guided game drives, but if you're a diligent photographer and would rather like to improve your photography skills, Inyati is just the place to practice. The rangers will make sure they get up close to animals at just the right angles, and since drives are timed around sunrise and sunset, you'll have the most exquisite natural lighting to play with.